About
Welcome to the Sunset Festival of Bands website.
Celebrating our 12th festival in 2022, we are proud to be a favorite field show competition among Northwest high school band directors and students.
On Saturday, October 29, 2022, high school marching bands and color guard groups from around the Northwest will roll into Sunset Chev Stadium in Sumner, Washington to compete in the areas of musicianship and performance. More than for bragging rights and awards, these competing student bands will receive coaching and mentorship from five respected judges in the field.
Bands begin the day performing their field shows for the judges. Immediately following clinic performance, students break out into sections to receive feedback from the judges on strengths and areas for improvement. Each group may then use this information to make adjustments in their performance for the competition phase of the event later in the day.
Sunset Festival of Bands offers participation at three separate levels:
Division I for groups of 50 or fewer members
Division II for groups of over 50 members
Exhibition for groups who would like to participate but not compete
The goal of the SFOB is to provide a fun, educational experience for the directors and students that participate in our event. The funds raised will be donated to support the music education in the Sumner School District and their many endeavors: travel, the expenses of needed equipment, instruments, music and more.
Origin: the Birth of Sunset Festival of Bands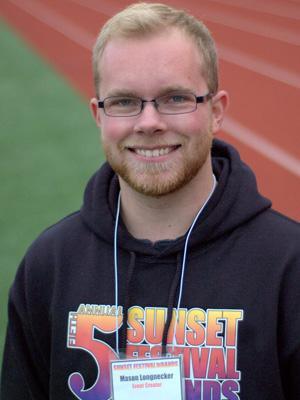 Sunset Festival of Bands began as a vision of Sumner High School student and drumline member, Mason Longnecker. His goal: to bring a quality marching band field show competition to his home turf, providing a valuable learning experience for individual musicians and bands as units. Unlike other competitions where bands perform, are judged and results and comments are sent home for review, Mason created a format for immediate feedback and the opportunity for learning and growth.
Active in the multi-award winning Sumner High School Marching Band, Mason's idea grew into a senior project, which has become an annual celebration of the performance and competitive spirit that exists in these young, talented student musicians and color guard members. A 2010 Sumner High School graduate, Mason Longnecker created an event that will live on and expand even as he moves on to college and life beyond school.
Open to high school bands and color guard groups, the Sunset Festival of Bands grows in popularity and attendance each year.