2023 Judges
About Our Experts
Darren Tanner - Color Guard Judge
Darren Tanner has been active in the pageantry arts for over 30 years. He studied dance at the University of Washington, and he performed with the Bluecoats Drum and Bugle Corps (and most recently Bluecoats Alumni Corps), Glassmen Drum and Bugle Corps, and Every-Body Winterguard. He has been an instructor, choreographer, and clinician for numerous marching band and winterguard programs in the Midwest and Pacific Northwest and has been an active adjudicator for over 20 years. Darren currently resides in Seattle, Washington and works as a research scientist at Microsoft.
We welcome Darren to his first SFOB!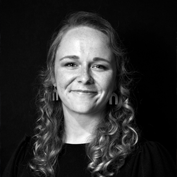 Maggie Whiteman - Drum Major Judge
Maggie Whiteman is currently pursuing her Masters degree in Wind Band Conducting at the University of British Columbia in Vancouver, Canada. Prior to this position, she served as the Director of Bands at Eastmont High School in Wenatchee, Washington, for four years. During her time, the program tripled in size, attended invitational events, and was awarded generous funding to invest in reviving the instrumental inventory. Maggie has led Band, Orchestra, Jazz Band, Mariachi, Percussion ensembles in her time at Eastmont. She strives to maintain a culture of creative excellence.
While teaching at Eastmont, Maggie was an active member of the Music Education community. She has given clinics at the Washington Music Educator's conference, the Whistler Cantando festival, judged at the Harvest, Sumner, and Auburn marching band festivals, judged at the Leavenworth Autumn leaf parade, served as the Drum Major technician for both the Columbians and Cascades Drum and Bugle Corps, served as a faculty member for 2018 and 2019 at the CWU Summer Leadership Camp, as well as working with many high school marching bands across Washington. Maggie was a drum major for the Cascades Drum and Bugle corps and the Central Washington University Marching Band, as well as marching mellophone for the Columbians Drum and Bugle Corps. She is a proud CWU alum who enjoys her free time hiking, skiing, and is so excited to be back for her third Sunset Festival of Bands!
Jeff Ray - Music Effect Judge
Jeff Ray is in his 35th year of working in public education, and is currently the director of the Olympic View Middle School Band from Mukilteo, WA. This group has won events all over the Pacific Northwest and California. They were the first middle school in the United States to perform at a division one NCAA Bowl game, performing with Destiny's Child. Prior to entering education, Mr. Ray spent 25 years in drum and bugle corps as a member, instructor, and as a director. His affiliations include the Percussionaut Patriots, Renaissance, Freelancers, Imperials, Marauders, Argonauts, Spartans, and Cascades Corps. Mr. Ray also keeps a very busy performance schedule as a lead trumpet player and plays in several big bands in the Puget sound area.
Jeff has been with us for every single Sunset Festival of Bands!
Jim Rice - Music Individual Judge
Jim Rice is University Intern Coordinator for students entering the music teaching profession at Western Washington University. Rice retired from public school music teaching in June 2018 after 40 years as a successful instrumental music teacher, most recently at Inglemoor High School in the Northshore School District. He earned a BA from CWU and a MA from the UW. Rice has served as president of WMEA, the Washington Music Educators Association and NAfME: The National Association for Music Education's Northwest Division. He was organizing chair of the 2007 NAfME Northwest Division Conference, coordinating chair of the 2005 NAfME All-Northwest honor groups and the 2002 WMEA All-State honor groups, as well as the organizing chair of the 1997 NAfME All-Northwest Orchestra and the 1990 WMEA All-State Jazz Ensemble. Rice is a sought after orchestral and band clinician and adjudicator.
Rice is a member of the WMEA Hall of Fame and Northwest Bandmasters Association, was a candidate for NAfME national president and in 2010 was named a CWU Outstanding Alumni. In 2011 he was awarded the NAfME Northwest Division Distinguished Service Award. He also has served as congregational chairman, elder, music committee member and choir member at his church. He and his wife, Donna, enjoy their grandsons Ellis, Abner, and Amos and are proud of their daughter, Rachel, Music Specialist at Snoqualmie Elementary School and son-in-law Tom, Student Ministries Pastor at Church on the Ridge, and daughter, Rebecca, Music Specialist at Timber Ridge Elementary School, and son-in-law Stephen, who is Lead Student Ministries pastor at Church on the Ridge in Snoqualmie.
Jim is joining us for his first Sunset Festival of Bands!
Nick Molenda - Percussion Judge
Nick Molenda studied music at the University of Washington in Seattle and has been performing & educating for over 20 years.

As a performer, Nick spent years behind the drum kit, holding the drum chair with such artists as HARPS, Allen Stone, Headwaves, & Megan Wilde, Nick has toured extensively, performing at venues of all sizes. Presently, Nick can be heard performing with Seattle Rock Orchestra & alt/Indie artist Brittany Danielle.

As an educator, Nick is well-respected in the northwest music community from a 7-year stint coordinating the University of Washington Husky Drumline. In 2013, Nick led the Seattle Cascades Drum & Bugle Corps to their highest percussion score on the DCI tour in several years. Nick also served as a front ensemble & sound design supervisor for the award-winning Kamiak High School (Mukilteo, WA) WGI Winter Percussion Ensemble during their undefeated run in the NWAPA regional circuit. These days, Nick maintains engagement teaching privately, consults with various groups, & regularly adjudicates for marching band, drumline, and solo & ensemble competitions all over the west coast. Nick proudly endorses Pearl Drums, Remo Drumheads, Zildjian Cymbals, & Vic Firth Drumsticks
Nick is welcomed back to the Sunset Festival of Bands for the second time!
Ron Maier - Visual Effect Judge
A native of Bremerton, Washington, Mr. Maier has performed in the Titans Drum and Bugle Corps, the Seattle Imperials Drum and Bugle Corps, the Madison Scouts Drum and Bugle Corps, and the State Street Review Winter Guard. He has designed for and taught many groups across the United States and Canada, including the Phantom Regiment, of Rockford, Illinois, the Thunderbolts of Cedarburg, Wisconsin, the Marauders of Longview, Washington, Les Eclipses of Montreal, Quebec, and numerous high school bands and winter guards. He holds a Bachelor's degree in Music Education from the University of Washington, a Master's Degree in Integrated Arts from Lesley University, and is a National Board-certified music educator. Currently, Mr. Maier is Director of Bands at Finn Hill Middle School in Kirkland, Washington, and serves as Judges Coordinator for the Pacific Performing Arts Association.
We welcome Ron back for his eighth year as a judge for SFOB.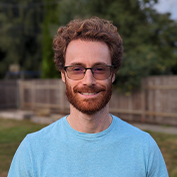 Nick Maupoux - Visual Individual Judge
Nick Maupoux has been involved in competitive marching bands for nearly 20 years. He received Bachelor's degrees in Music Education and Trombone Performance from Central Washington University and a Masters in Music Education from the American Band College. While at CWU, he marched with the Oregon Crusaders Drum & Bugle Corps, where he then taught brass. Maupoux has been a brass tech at the Columbians Drum & Bugle Corps since 2017.
Maupoux started his career in the Cle Elum - Roslyn School District, where he taught 6th-12th grade band/choir and built a competitive marching program from scratch. The small 2-B high school band grew to winning 1st place in the A division at Harvest Marching Band Festival, Cavalcade of Bands, and the Pacific Northwest Marching Band Championships in 2019 & 2021. Maupoux and his Cle Elum band program won over 50 awards during his time there, including Teacher of the Year for both the Yakima Valley Music Education Association and the Cle Elum - Roslyn School District.
Nick Maupoux now teaches middle school band and orchestra in Longview, Washington, where he continues consulting with marching bands throughout the state and is the visual caption head for the local high school band.
We welcome Nick to his first Sunset Festival of Bands!